Passion is the Driving Force Behind Elizabeth FastHorse Success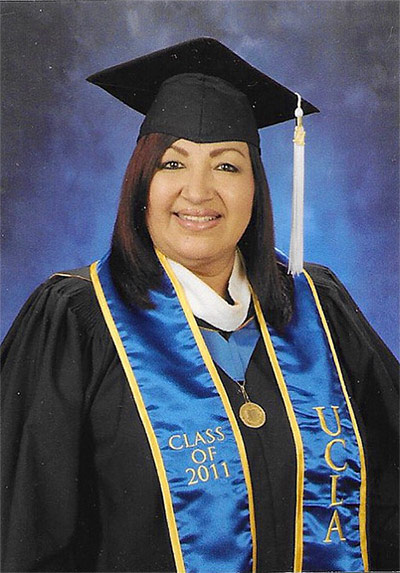 Rincon Tribal member Elizabeth (Piper) FastHorse is a PhD student in Education at UCLA. She was born to parents Emily (Paipa) Piper Kolb and Ralph Pico, a Rincon Tribal Member. She spent her early years growing up in Rincon but for a time she lived in Pomacha (La Jolla) in a little adobe house with no electricity. In that house her grandmother, Florentina Lara (Paipa) Piper, raised her, and taught her traditions, culture and language. It was emphasized to Elizabeth that education and learning were important. Her grandmother always encouraged her to go to "school." Elizabeth pays tribute to her grandmother for this encouragement and teaching of her culture, language and traditions.
Elizabeth never really thought about going to college because no one in the schools ever talked to her about that being an option. She knew she wanted to continue in school but did not know how to do it. So, she just focused on graduating. In her early years she went to Pala Mission school before she went to attend St Catherine Indian boarding school in Santa Fe, New Mexico when she was fourteen.
The will to go to college was there, but Elizabeth had never been taught how to go to college or how to do college. In her early school days, she says she felt invisible. The Pala school never talked about Native people in the curriculum and it was as if Native students did not matter. College, of course, was never even discussed with the students. When she attended St. Catherine's; however, it was the first time she felt like she belonged, where Native people were acknowledged and appreciated. That acknowledgement was crucial, it gave her a sense that she did belong, that she was important and could have a voice in her future. Unfortunately, due to her grandmothers' passing, she had to come back home. As a result, she attended more high schools that made her feel invisible.
After her grandmother's passing Elizabeth moved to Los Angeles with her mother and finished high school at Bell High School, Bell, CA. Elizabeth went on in her life, and she worked for Warner/Chappell Music a subsidiary of Warner Music Group. Elizabeth's supervisor encouraged her and became a mentor to her and continued to push her and often said, "Elizabeth, go to school." Her boss saw her potential and believed in her, and gave her the push she needed. She did go to school, starting at Rio Hondo community college in 2004 where she became immersed in college life and active on campus. She learned that her secret to success was to always take at least one course in something you love along with the other required courses. It must have worked because she ended up an honor student who was then able to transfer to UCLA applying as an American Indian Studies major.
Throughout her time at UCLA Elizabeth has studied American Indian Studies and Education. It was not her original intention to go beyond a Bachelor's degree but the people she met saw her potential and they supported her and helped her feel that she belonged. Many students of color suffer from what is called Imposter Syndrome, which makes the student feel like they really don't belong there. Elizabeth was one of those students. She was fortunate, however, to have a strong support group who encouraged her and as she read more books by indigenous scholars, she realized not only did she belong there, but her voice was needed in academia because Native voices need to be heard. Eventually, after many hurdles, and two Master's Degrees later, she was accepted to a PhD program at UCLA where she currently is today. When asked what she wanted to do with her education Elizabeth talked about her three goals of teaching, research and advocacy in K-12 education. "I am passionate about the importance of language immersion and culturally specific academics that are currently absent in K-12 education," Elizabeth stated. She feels that students need to be acknowledged in their school so they feel like they belong.
When asked what advice she would give to Native high school students she said, "I would encourage them to use their voice in their classrooms. I believe that being heard and standing up for what you believe is very important. That acknowledgement of a student's ideas and views is crucial to success." It certainly has been for the soon to be Dr. Elizabeth FastHorse.
Editor's Note:  It is the policy of the Rincon Voice to correct any error. The Community Spotlight article on page 47 in the Spring/Summer 2021 edition of the Rincon Voice titled "Passion is the Driving Force Behind Elizabeth FastHorse Success" contained incorrect information.  The article has been updated to state Elizabeth was raised by Florentina Lara (Paipa) Piper.